Are you a swimming lover and looking for sunscreens for swimming? If you have no idea what and how to choose, this article can help you in finding the best sunscreens for swimming.
Swimming is one of the finest ways to stay cool as summer approaches and the heat begins to set in.
Swimming has been a common family hobby, whether it be at the lake, beach, or backyard pool. It makes sense given that it's the ideal time for friendship and outdoor recreation.
You are more likely to get sunburns and be exposed to dangerous UV light while swimming, though. So, to prevent this, you'll need sunscreen.
However, since not all sunscreens are created equal and are equally effective, you must choose the best one to protect yourself and your family.
Today's market is flooded with sunscreen options, making it challenging for some people to select the best one.
The top 11 sunscreens for swimming are listed below to help you make a decision. Here are the factors you should first take into account when selecting the ideal product to buy, though, before moving on.
---
Things To Consider When Buying the Best Sunscreens For Swimming [Buying Guide]
There are the key factors we consider when testing the best sunscreens for swimming:
Levels of zinc: Instead of merely being a sunscreen like many sun creams, zinc actually acts as a sunblock. For durability, many long-distance swimmers prefer sunscreens and sunblocks with a lot of zinc.
Reef friendly: Oxybenzone-containing sunscreens are currently prohibited in several regions. These dangerous substances, which are poisonous to corals and marine life, are included in many sunscreens.
SPF levels: It's tempting to use the highest SPF possible. Surely SPF 30 is twice as amazing as SPF 15, right? Nope. Around 93% of UVB rays are blocked by SPF 15 sunscreen, whereas 97% are by SPF 30. Typically, SPF 30 is sufficient to offer appropriate protection.
---
Here Are The 11 Best Sunscreens For Swimming
After doing a lot of research and considering buyer's reviews we have shortlisted some of the best sunscreens for swimming.
SPF 50+ Mineral Sunscreen By Thinksport
Anthelios Gentle Mineral Sunscreen By La Roche-Posay
SPF 30 Clear Zinc Sunscreen Cream By Badger
Hawaiian Coconut Clear Spray SPF 50 By Alba Botanica
Sunscreen Moisturizing Sunscreen Lotion SPF 30 By Black Girl
Mattescreen 100% Mineral Sunscreen SPF 40 By Supergoop
Sunscreen Lotion SPF 50 By Sun Bum
Super Sensitive SPF 30 By California Baby
Ultimate Sun Protector Lotion SPF 50+ By Shiseido
Sport Face & Body Sunscreen Lotion By All Good Makes Everything Better
Organics Kids Sunscreen SPF 30 By Earth Mama
1. SPF 50+ Mineral Sunscreen By Thinksport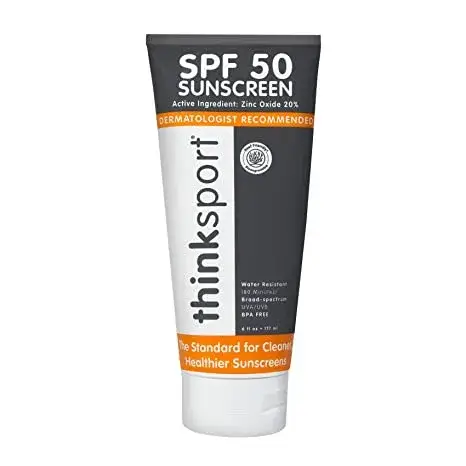 Thinksport SPF 50+ Mineral Sunscreen is ideal for a variety of outdoor sports and events and meets all the boxes on our reef-friendly checklist.
The non-nano zinc oxide in the broad spectrum cream forms a shield against UVA and UVA rays.
Thinksport could be a game-changer if you're one of those folks who detest the feeling of being covered in goopy sunscreen. The thin solution applies easily and absorbs rapidly with no greasy residue or visible white cast.
It is the ideal beach buddy whether you'll be sweating through a rigorous wave-riding session or enjoying pia coladas in a cabana because it is water-resistant for up to 80 minutes.
Even for sensitive skin types, the soothing, non-irritating formula makes it a wonderful option for daily use on your face or body (yes, you should use sunscreen every single day). a perk? Also, it is vegan.
---
2. Anthelios Gentle Mineral Sunscreen By La Roche-Posay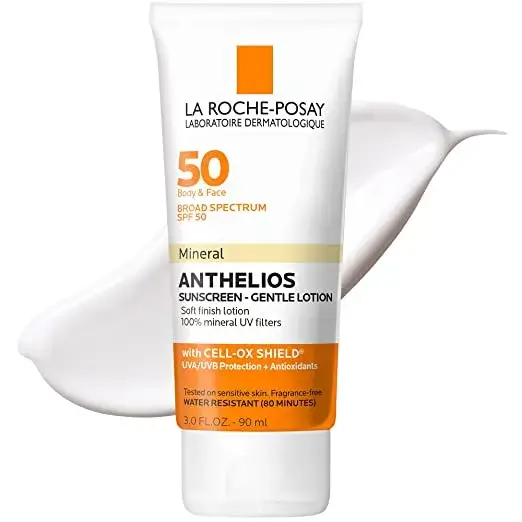 Dermatologist Dr. Jasmine Yun of Los Angeles advises developing the habit of consistently applying a thin layer of sun protection to any exposed areas, particularly the face.
She wears reef-safe sunscreen every day. La Roche-Posay Anthelios Gentle Mineral Sunscreen is her go-to product for daily use.
Reef-safe sunscreens are extremely safe for the face and body because they don't include chemical UV blockers, according to the expert.
"When I wash my face at night, I have peace of mind knowing that the water going down the toilet is safe for ocean life."
The 100% mineral UV blockers titanium dioxide and zinc oxide are used in the oil-free composition, while silica powder is used to fight glossy residue.
Be aware that La Roche-Posay does not disclose if its primary ingredients are non-nano or utilize "reef-safe" marketing terminology.
The firm does mention that its lab analyzes all of its face and body sunscreens to make sure they are suitable for use in marine environments.
Also Read: 11 Best Towels For Swimmers
---
3. SPF 30 Clear Zinc Sunscreen Cream By Badger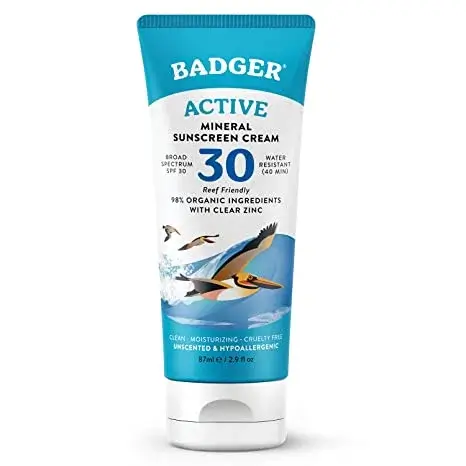 With an SPF of 30, Badger Active Mineral Sunscreen offers broad-spectrum UV defense. If you check through the ingredient listings for this product, you will only find organic sunflower oil, organic beeswax, uncoated zinc oxide, sea buckthorn extract, and sunflower vitamin.
Badger sunscreens are also among the few companies that go above and beyond to have their products tested in labs to ensure that none of the hazardous substances on the HEL list are present.
As a result, this product has received the Land + Sea certification seal, which guarantees to consumers that it is free of environmental toxins.
The item is also vegan, cruelty-free, non-GMO, produced with solar energy and packaged with materials that are 50% recyclable.
The biggest drawback is that, in contrast to other sunscreens on this list, it is only water and perspiration resistant for up to 40 minutes.
---
4. Hawaiian Coconut Clear Spray SPF 50 By Alba Botanica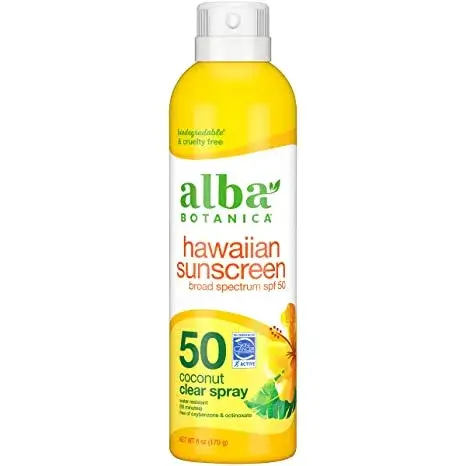 Because of its tropical smell and simple spray-on application, this Alba Botanica mineral sunscreen spray is popular.
For beachgoers who enjoy taking a swim in the water and don't want to hassle with sand-based applications (or reapplications) of sunscreen during the day, it is the perfect purchase.
It also comes in handy when you don't want to hassle with applying lotions or sticks and require protection on difficult-to-reach places while on boating trips or leisurely aquatic sports like river tubing.
However, because it contains avobenzone, a chemical that in one research showed a worrying reaction to chlorine, some buyers might decide to pass on this biodegradable sunscreen if they intend to go to the pool.
It also contains a few more chemicals, like homosalate and octocrylene, which some beachgoers attempt to avoid.
Also Read: 11 Best Swim Diapers For Babies
---
5. Sunscreen Moisturizing Sunscreen Lotion SPF 30 By Black Girl

Black Girl Sunscreen is a company run by Black people that provides everyday SPF 30 protection made especially for darker skin tones.
Natural moisturizers including jojoba, avocado, and sunflower oils are found in this vegan and cruelty-free sunscreen.
The ultra-sheer consistency is perfect for using under makeup because it dries transparent and leaves no trace of white.
It complies with fundamental unrestricted requirements for being reef-friendly by being free of oxybenzone and octinoxate.
However, because it contains octocrylene, this sunscreen does not adhere to the U.S. Virgin Islands reef-safe policy.
---
6. Mattescreen 100% Mineral Sunscreen SPF 40 By Supergoop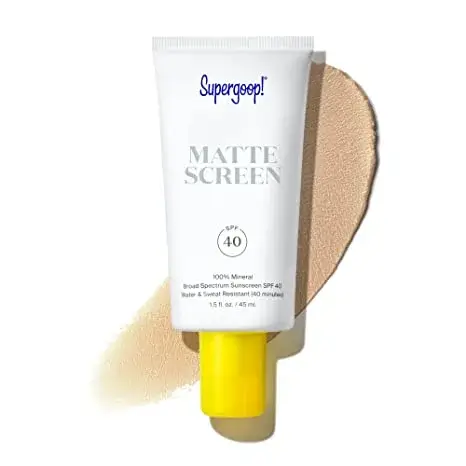 In addition to offering UVA and UVB protection, Supergoop! 100% Mineral Matte Screen Additionally effective in obstructing blue light from gadgets is sunscreen.
The product's translucent tint works on a variety of light to medium skin tones and helps conceal the unpleasant white cast caused by some mineral-based sunscreens.
Professional surfer Kirra Seale says she uses Mattescreen as part of her daily reef-safe sun protection routine. Seale competes in the World Surf League.
The oil-free solution serves three purposes in one: primer, pore minimizer, and sunscreen. Before leaving the house in the morning, she says, "I put it on." "It leaves my face appearing smooth and has a faint gloss."
---
7. Sunscreen Lotion SPF 50 By Sun Bum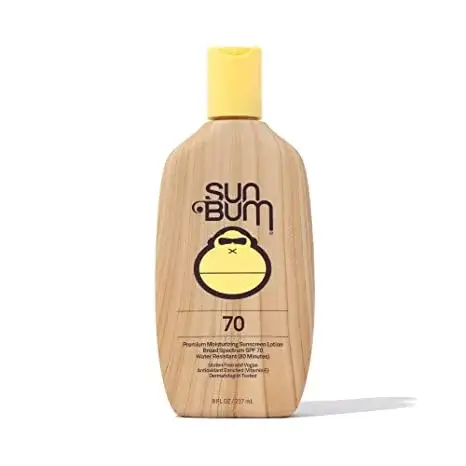 Professional athlete Kirra Seale states, "I use Sun Bum in SPF 50 lotion for my body anytime I go surfing and when competing in tournaments like the WSL Longboard Tour.
It is essential to have sunscreens that work well in regions of the world where UV radiation can be stronger. The vegan, animal-free formula of Sun Bum Original Sunscreen Lotion is water-resistant for up to 80 minutes.
It's the best option for anyone looking for a vegan sunscreen with the longest water resistance and the highest authorized SPF protection.
Despite being free of oxybenzone and octinoxate and being marked as reef-friendly, this product contains the prohibited ingredient octocrylene in the U.S. Virgin Islands.
Also Read: 11 Best Kickboards For Swimming
---
8. Super Sensitive SPF 30 By California Baby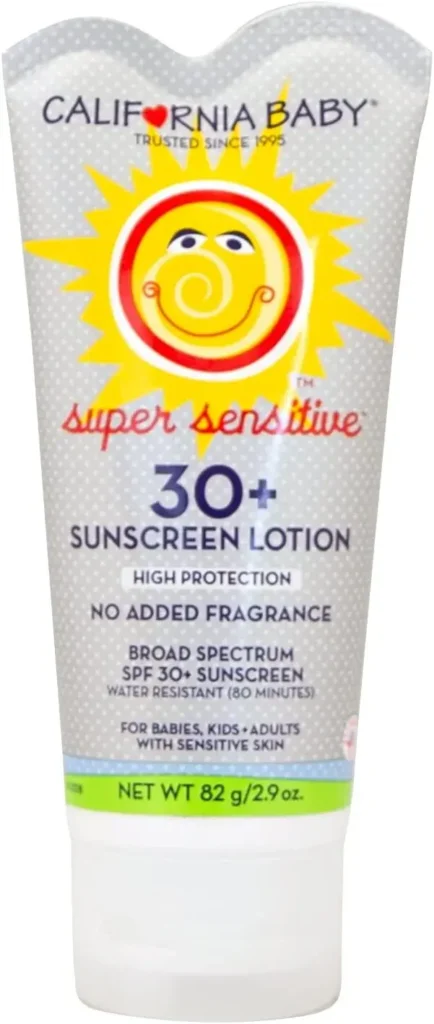 Our top option for adults, children, and babies with sensitive skin is this vegan, marine-friendly sunscreen since it is free of common allergies including dairy, gluten, soy, and oats.
Dr. When I go on vacation, I pack tons of stuff in my suitcase so I can cover my three children in it. Oxybenzone and octinoxate are absent from the mineral-based product, which uses titanium dioxide as a barrier sunblock.
Additionally, harmful substances like avobenzone, octisalate, octocrylene, and homosalate are not used in their production.
Gardenia and lemongrass essential oils have been added to this product, which was initially created fragrance-free. Although it isn't stated on the label, the manufacturer asserts that this product is "safe for coral reefs."
---
9. Ultimate Sun Protector Lotion SPF 50+ By Shiseido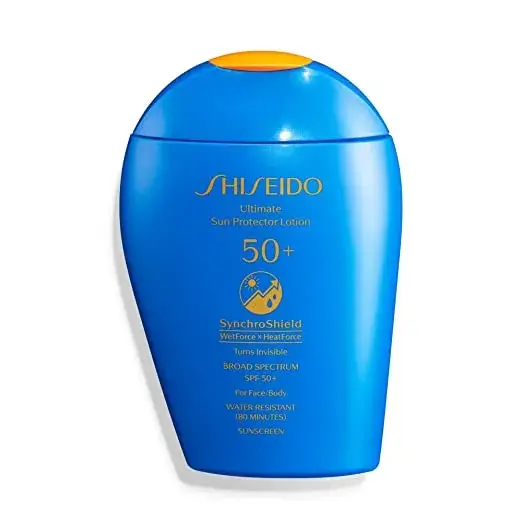 Surfer Kirra Seale says, "I adore using the Shiseido Ultimate Sun Protector Lotion." "Their recipe respects Hawaii's laws and the water.
The water-resistant veil means less product will wash off when you join the surf because it rolls on so smoothly and silkily."
For use on extremely hot days spent in the waves, this sunscreen is developed to strengthen the invisible barrier protection when exposed to heat, water, or sweat.
Although this product is free of oxybenzone and octinoxate, users should be advised that it also contains avobenzone, homosalate, octisalate, and octocrylene.
---
10. Sport Face & Body Sunscreen Lotion By All Good Makes Everything Better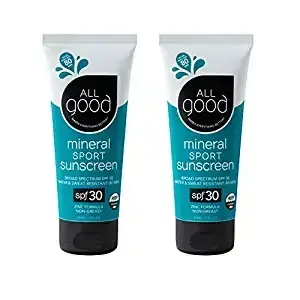 A reef-safe and long-lasting sunscreen is an essential purchase for tourists who base their holiday around water sports.
With this All Good mineral sunscreen, you may indulge in your preferred beach activity without worrying about your skin because it is both sweats- and water-resistant.
Because it contains a mixture of coconut oil, jojoba oil, and shea butter, it won't leave you feeling oily or sticky and will keep your skin hydrated no matter how much you perspire.
---
11. Organics Kids Sunscreen SPF 30 By Earth Mama
It may not seem feasible to reapply sunscreen to your child after less than an hour but bear with us.
Even on the most delicate skin types, this dermatologist- and pediatrician-tested sunscreen is touted to be particularly sensitive.
It contains organic shea butter and organic calendula and is fully cruelty-free in addition to offering UVA and UVB protection.
This lotion may need to be used more frequently, but you can do so with confidence knowing that your child's baby-soft skin will be secure and protected.
---
FAQs For sunscreens for swimming
There are a lot of questions that come to mind while choosing sunscreens for swimming, some of the commonly asked questions are answered below.
Q.1 Which sunscreen is best for sea water?
Oil-free and non-comedogenic UVA/UVB sunscreen mist by Neutrogena, Ultra Sheer Body Mist, Broad Spectrum SPF 70, Lightweight, Non-Greasy, and Water Resistant, 5 oz.
Q.2 Is it OK to wear sunscreen in a pool?
Wearing sunscreen in your pool causes it to disintegrate and interact with the chlorine and other chemicals there. The water may become hazy as a result of the resulting chemical imbalance, and swimmers may start to experience skin or eye irritations. There is no easy method to stop this from occurring.
Q.3 Should I use sunscreen or sunblock for swimming?
You must use sunscreens, such as zinc oxide or titanium dioxide (TiO2) (ZnO). Apply generously and spend time in the sun each day swimming. The use of sunscreen products that exclusively include chemicals has another drawback. Aquatic life can be harmed by some toxins.
Q.4 Is water-resistant sunscreen OK for swimming?
Be cautious to wait 15 to 30 minutes after applying sunscreen before going for a swim. Any sunscreen that is water-resistant must have enough time to dry and soak into the skin before coming into contact with water in order to function properly.
---
Tell Us In The Comment As per your Experience which one is the Best sunscreen for swimming?
Also, don't forget to check other articles on World Sports Gear. Enhance your knowledge about swimming and other related sports.