Are you a professional swimmer and do swimming for fun and looking for Anti-Fog Swim Goggles? If you have no idea what and how to choose, this article can help you in finding the best anti fog swim goggles.
Make sure your swim goggles are properly secured and fitting to prevent fogging them up. Before using the lenses, you can also apply a little layer of anti-fog solution inside of them. By adjusting to the pool temperature gradually and taking breaks to adjust your goggles if necessary, you can also try to prevent sudden temperature changes and humidity levels.
Having the proper goggles is crucial when swimming, whether you're working on a race, swimming laps for cardio, or getting ready for a triathlon.
If you're swimming indoors or outside, you could need various characteristics like sun protection or peripheral visibility.
In our collection, we evaluated the goggles based on their value and cost, sun protection, general visibility, comfort, and leak-proof ness.
A former competitive swimmer who appreciates a good pair when she sees one evaluated and chose each item on this list.
---
what Are Anti Fog Swim Goggles?
Anti-fog swim goggles are a particular style of swimming goggles made to keep the lenses from fogging up as a result of body heat and water. To improve airflow and lessen fogging, they typically have vented frames, double-layer lenses, and anti-fog coatings.
These goggles offer clear vision and comfortable wear, making them ideal for swimming laps and other water activities.
---
Things To Consider When Buying Anti-Fog Swim Googles [Buying Guide]
The best anti-fog swim goggles should take a number of things into consideration. Here are some tips to help you choose the ideal pair:
Look For Goggles With Anti-fog Coating: Nowadays, many goggles come with an anti-fog coating to help reduce fogging. This is typically an extra coating on the interior of the lens that helps in maintaining clarity.
Check The Fit: Finding goggles that are comfortable to wear and tightly seal around your eyes is essential. When goggles are too loose or too tight, water can enter and produce fogging.
Consider The Lens Type: Different lens designs have various advantages. For instance, clear lenses work well in low light while mirrored lenses might reduce glare.
Look For Goggles With A Good Ventilation system: It's crucial to have proper ventilation if you want to avoid fogging, so look for goggles with vents or frames that allow decent airflow.
Consider The Strap: For a secure fit and to keep the goggles from falling off while being worn, a comfortable, adjustable strap is essential.
Read Reviews: It's usually a good idea to read customer reviews before making a purchase to get a sense of the usefulness and durability of the goggles.
Sun Protection: The majority of eyewear is polarised, mirrored, or non-mirrored. The finest lenses for indoor swimming are those that are not mirrored since a tinted lens inside could make it too dark to see. For swimming outside, mirrored and polarised lenses work best since they reflect and block out sunlight.
Visibility: Some goggles come with hydrodynamic lenses, which give you a broader field of vision. If you only want to swim laps, this is not essential, but for training and competitions, it improves your underwater visibility (so you don't swim into a lane line during your race).
---
Here Are The List of the 11 Best Anti-Fog Swim Goggles
After doing a lot of research and considering the buyer's review we have shortlisted some of the best anti fog swim goggles.
Unisex-Adult Swim Goggles By Speedo
Anti Fog Swim Goggles By Aegend
Kayenne Swim Goggles By Aqua Sphere
G1 Polarized Anti-Fog Swim Goggles By Zionor
Unisex Speed Socket 2.0 Swim Goggles By Speedo
Sport Special Ops 2.0 Polarized Swimming Goggle By TYR
Cobra Ultra Competitive Swim Goggles By Arena
XCEED Swimming Goggles By MP Michael Phelps
Anti-Fog Goggles with Bungee Straps By Resurge Sports
Junior Hyper Flyer Swim Goggles By Speedo
Comfortable Polarized Swimming Goggles By OMID
1. Unisex-Adult Swim Goggles By Speedo
The Speedo Vanquisher goggles are our top choice since they contain all the elements that make good swimming goggles.
They have silicon seals around the eyes, anti-fog protection, UV protection, a broad panoramic lens, and four different nosepiece options for a unique fit.
Competitive swimmers highly regard and trust the Speedo name, and this item is inexpensive but manufactured of high-quality, long-lasting materials.
Also Read: Do I Need A Swimming Cap? 11 Best Swim Caps For Swimmers
---
2. Anti Fog Swim Goggles By Aegend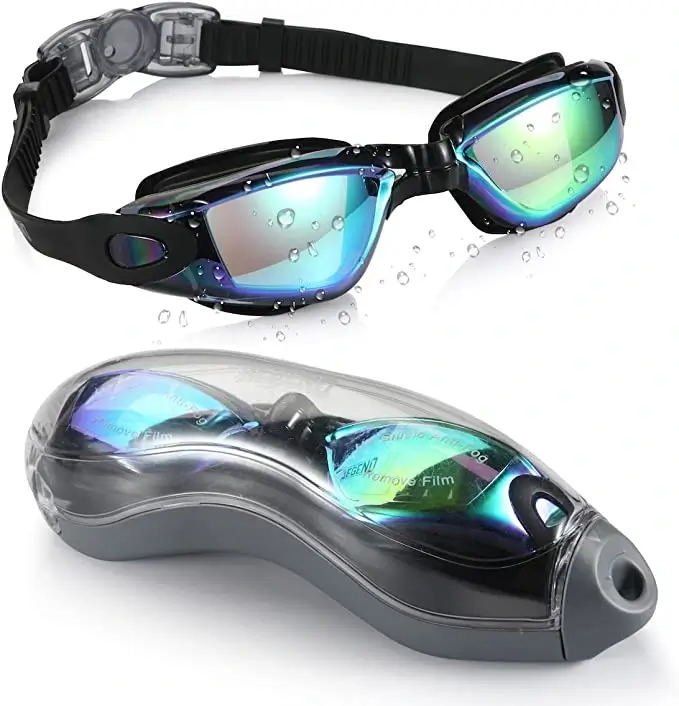 These Aegend goggles offer excellent value for the money. Top-notch treatment technology is used to cover the inner lenses. Men, women, and kids can all wear them, and they are available in 15 different hues.
They have also been enhanced with a taller nose piece compared to a standard nose piece so that it won't rub against your face when you swim. These goggles are reputed to be very leakproof thanks to their ergonomic shape, which is an added benefit given the price.
Also Read: Is A Swim Parka Worth It? 11 Best Swim Parkas For Swimmers Perfect For Cold Weather Swimming
---
3. Kayenne Swim Goggles By Aqua Sphere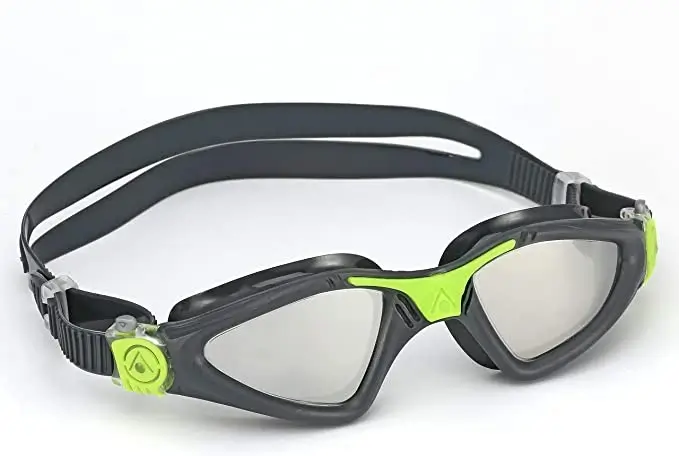 These goggles' 180-degree visibility is crucial for swimming in wide waters since you need to be able to use your peripheral vision to see where you're heading and to detect buoys.
Additionally, it can aid in swimming straighter, which can speed up sprints.
Clear lenses (such as those on these goggles) are preferable over tinted lenses for open-water swimming because colored views can make swimming in already murky seas more challenging.
The goggles also have 100% UVA and UVB protection, so even with a clear lens, sunlight won't harm your eyes.
Also Read: What Are Pool Noodles? 11 Best Pool Noodles For Swimming
---
4. G1 Polarized Anti-Fog Swim Goggles By Zionor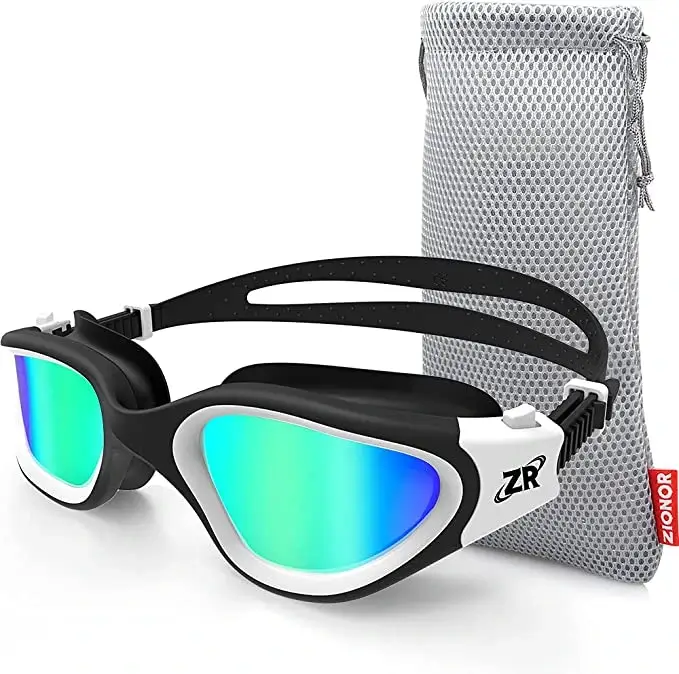 These goggles are a fantastic choice for you if your only goal is to swim a few laps and call it a day, with no plans to participate in any training or competitions. Comfort takes precedence over other google qualities when swimming laps, especially if you are a beginner.
Because your goggles were too tight, it is not uncommon to leave the pool with "raccoon eyes" after a swim session. However, this Zionor model uses optimized cushioning within the google frames to prevent that from happening.
Also Read: Should We Use A Waterproof Case On Your Smartphone? 11 Best Waterproof Phone Cases For Swimming
---
5. Unisex Speed Socket 2.0 Swim Goggles By Speedo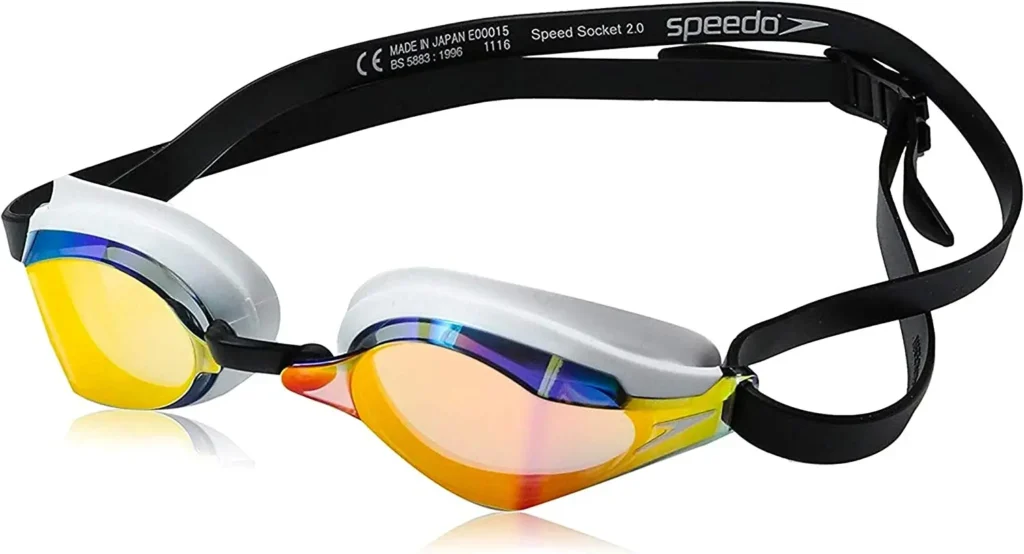 The Speedo Speed Sockets' curved hydrodynamic lenses, anti-glare coating, and tailored inner eye fit make them perfect for sporting events.
These goggles are especially useful for outdoor competitions because they provide UVA and UVB sun protection as well as mirrored lenses to protect the eyes.
The panoramic vision offered by the hydrodynamic lenses gives swimmers an advantage in a race since they enable better peripheral visibility when submerged.
Also Read: What Are The Benefits Of Swimming? 11 Health Benefits Of Swimming
---
6. Sport Special Ops 2.0 Polarized Swimming Goggle By TYR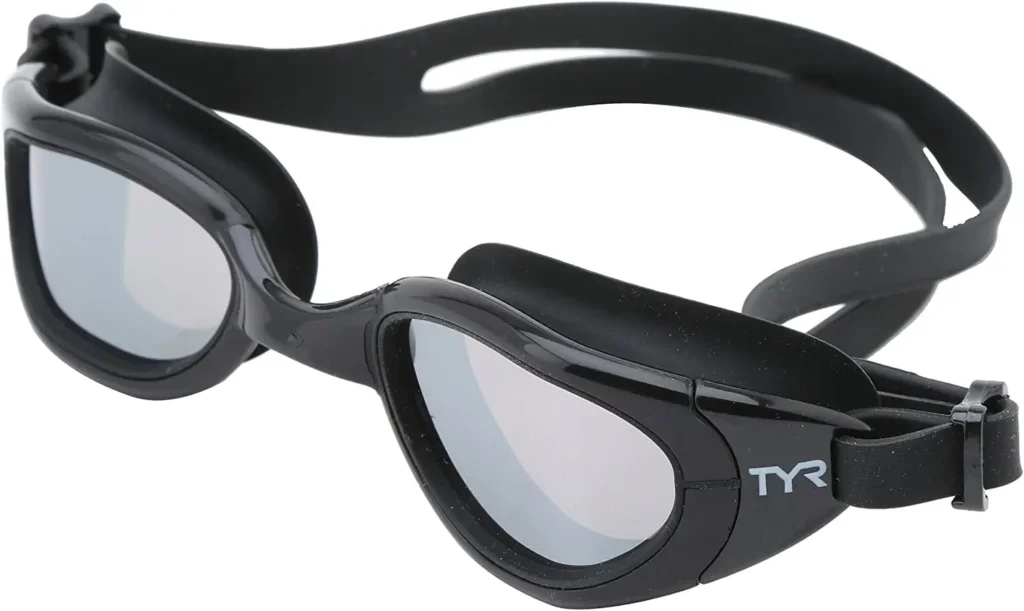 This TYR model is your best option if you simply need a pair of comfy, inexpensive goggles that will offer good UV protection and last you long enough to train for your triathlon.
They may not be the most robust or last indefinitely. They can be used in indoor pools while preserving clear visibility even though they are intended for swimmers who intend to train outdoors (whether in an outdoor pool or the open water).
They also have a broad peripheral view, which is highly useful for outdoor swimming competitions, especially those that take place near the ocean.
Also Read: Can You Swim With A Smartwatch? 11 Best Smartwatches For Swimming
---
7. Cobra Ultra Competitive Swim Goggles By Arena

Even though the Arena Cobra Ultras are more expensive, they can be worthwhile if you want sleek goggles that don't fog up.
When things start to become hazy, you may use your finger to physically swipe these goggles' innovative anti-fog swipe technology to reactivate the anti-fog protection integrated into the frame.
There is sure to be a pair that suits your taste among the 22 distinct styles available.
Also Read: Can You Swim With Water-Resistant Headphones? 11 Best Waterproof Headphones For Swimming
---
8. XCEED Swimming Goggles By MP Michael Phelps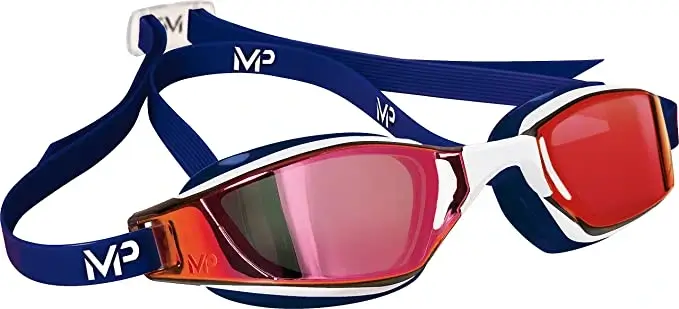 It should go without saying that any set of goggles being sold by Olympic gold medalist Michael Phelps himself must be of the highest caliber, but of course, everything is expensive.
These goggles should be very comfortable, dependable, and leakproof. The strong exoskeleton maintains the stability of the goggle on your face,
while the soft Softeril gasket on the goggle frame provides comfort and a watertight seal around the eyes.
Also Read: What Are Swim Bags? 11 Best Swim Bags For Swimmers That Help You To Carry Swimming Gears
---
9. Anti-Fog Goggles with Bungee Straps By Resurge Sports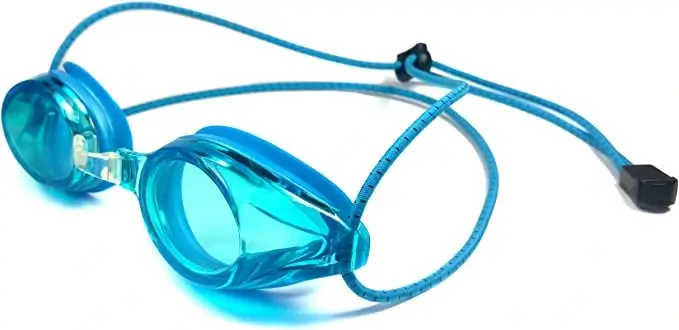 Bungee straps are, by far, the finest solution to the problem of adjusting your goggle straps. As a swimmer, I switched to using a bungee strap to adjust my goggles early in my swimming career and have never looked back.
This is because as a former swim coach, I've spent countless hours not only coaching but adjusting goggle straps for my swimmers.
The Resurge Sports is already a good choice for goggles, but the fact that they already have a bungee strap is a major selling factor (especially if you want to swim laps while feeling comfortable around your eyes).
This choice offers excellent value for your money because bungees on their own typically cost more than these goggles.
Also Read: What Are The Best Gifts For Swimmers? 11 Best Gift Ideas For Swimmers That Really Useful
---
10. Junior Hyper Flyer Swim Goggles By Speedo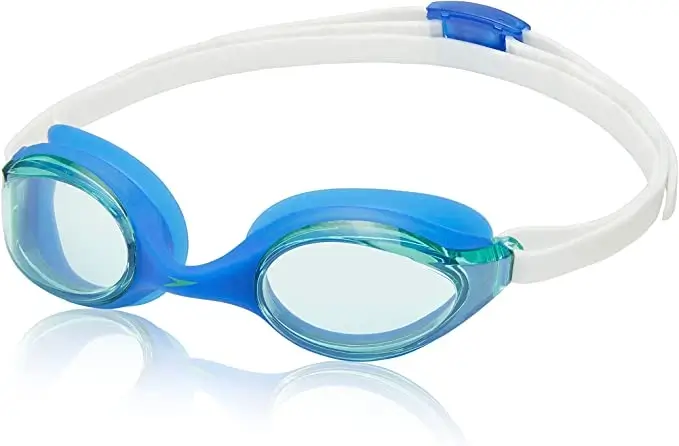 A dependable brand of children's goggles is Speedo. This pair of goggles contains everything a child could need in a pair, including readily adjustable straps, goggle seals that keep the lenses from leaking, and ten various, eye-catching styles and colors.
Your child will be able to attend swim practice in style if they are wearing these goggles.
---
11. Comfortable Polarized Swimming Goggles By OMID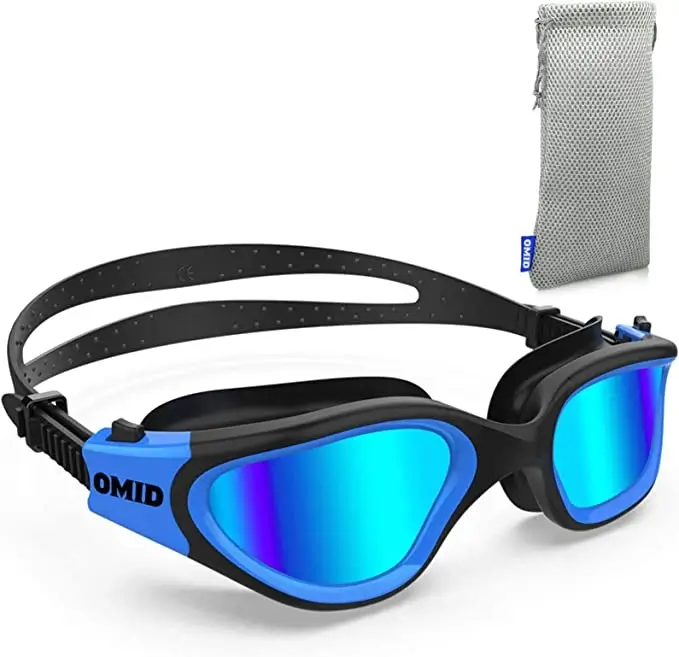 Advanced Anti-fog Design – Finish fog-free with the help of the most cutting-edge anti-fog treatment technology, which prevents the lenses from steaming up and provides you with superb visibility for concentrating on swimming underwater.
Super-soft silicone gaskets distribute the pressure evenly around your eyes and offer an extreme level of comfort that never hurts your nose or leaves a mark on your face.
Comfortable – Premium & Adjustable non-slip silicone strap and flexible nose bridge allow the swim goggle to fit any face shape.
---
Conclusion
Without carrying the best anti-fog swim goggles, you can't go on a trip. It is difficult to choose the best anti-fog swim goggles, though. If you are unfamiliar with outdoor activities or buying and selling, it would be difficult for you to choose the best anti-fog swim goggles.
All of us, especially the students after us, must engage in outdoor activities after a long and taxing day. Children can improve their health and develop dynamism through outdoor exercises.
Through active games, conquering tour programs, and other activities, we will acquire enough vitamin D in addition to training for children. Since their muscles and bones are firmer and more flexible, students' height, weight, and fitness level will be optimized.
Spending a lot of time outside usually results in a great positive attitude and a lot of happiness, which is quite helpful in today's society. We must therefore make it a habit to participate in daily activities.
---
FAQs For Anti-Fog Swim Goggles
There are a lot of questions that come to mind while choosing anti fog goggles for swimming some of the commonly asked questions are answered below.
Q.1 How do you stop swimming goggles from fogging up?
To prevent fogging, just moisten your face and goggles in the pool water before donning your goggles. This will give your face and goggles time to cool to more of the temperature of the water and gradually warm up to match your body temperature.
Q.2 What goggles does Michael Phelps use?
What thoughts does Phelps have regarding his goggles? The XCEED goggles are the greatest ones I've ever worn since they are really comfy and have amazing vision. I've never been able to see the wall and other swimmers underwater with such clarity and amazing peripheral vision.
Q.3 Does anti-fog spray work on swim goggles?
An anti-fog spray is a 100% effective remedy if you're ready to invest some money in your goggles. These anti-fog substances can recoat your lenses, preventing fogging in your goggles. SWANS is a fantastic brand that we highly suggest purchasing. To coat your lenses, only a small quantity at a time is required.
Q.4 What color lens is best for fog?
Yellow lenses offer clear vision in misty, foggy, or low-light conditions and block most blue light.
---
Tell Us In The Comment As per your Experience what are the Best Anti-Fog Swim Goggles?
Also, don't forget to check other articles on World Sports Gear. Enhance your knowledge about swimming and other related sports.