Are you a swimming lover and looking for a waterproof swim parka? If you have no idea what and how to choose, this article can help you in finding the best swim parkas for swimmers.
A swim parka is worth it for swimmers as it provides insulation and waterproofing, convenient pockets, and durable materials. It helps to improve overall comfort and performance while swimming and protects from elements like cold water, wind, and sun.
We hardly ever utilize the swim parka in the water, possibly because they are neither the most fashionable nor the cheapest piece of swimming gear available.
However, their main function is to keep you warm before a significant competition and in between races or laps. You must keep warm in between races to avoid a bad performance brought on by low body temperatures, and a swim parka is the best option.
This article offers a thorough analysis of the top swim parkas that will keep you warm while you're on deck, as well as a shopping guide that will give you a general sense of the factors you should take into account when choosing the best parka.
---
What Are Swim Parkas And Their Use?
Swim parkas are specially designed jackets worn by swimmers to stay warm and protected while swimming in cold water or inclement weather. They are made from waterproof and insulated materials that provide thermal protection for the body.
Swim parkas often come with additional features such as pockets, hoods, and UV protection that make them suitable for different swimming disciplines and conditions.
They are used by open-water swimmers, triathletes, competitive swimmers, and all those who want to stay warm and protected while swimming in cold water or inclement weather.
---
Things To Consider While Buying Swim Parkas for Swimmers [Buying Guide]
Below are some basic and important things to keep in mind while choosing Swim parkas.
Parka shell: You should choose a parka with a water-repellent external shell because you'll be wearing it around the pool. The two most popular parka shell materials are nylon and polyester because they both repel water. A swim parka is a terrific option for wandering outside in bad weather without worrying about getting wet because it is made of nylon or polyester.
Storage: The ability to hold the necessities for race day, such as your swim goggles, swim cap, and even your smartphone, is one of the swim parka's slight advantages. I also kept everything in my swimsuit while competing, making it easier to have everything organized and close at hand as I dove from the blocks and raced to a new personal best time.
Inner lining: A parka's primary function is to keep you warm. The parka lining, which is often made of wool or fleece, plays a major role in this. These fabrics are particularly quick to dry, making them ideal for swimmers who spend the whole day in and out of the pool.
Customization: The majority of swim teams mark their swim parkas by inserting their emblem and team colors. Some companies and online stores provide this personalization (Swim Outlet offers this, for example). Select the hues that best reflect your team.
---
List of 11 Best Swim Parkas for Swimmers for Cold Water Swimmers
After a lot of research and considering buyer's reviews we have shortlisted some of the best swimmer's swim parkas jackets.
unisex team By Speedo
alliance team youth By Tyr
jacket robe By great Aussie Swim
water parka By surf-fur
unisex-adult Parka Jacket By speedo
faux fur lining by adoretex
unisex pk005 By adoretex
unisex black lining by adoretex
advance short sleeve by dryrobe
team jacket by tri-mountain
Swim Parka Adult by Nike
1. unisex team By Speedo
This resembles the OG swim parka. Due to its standards, it is deservedly very well-liked. If you value quality, this should be your top choice.
The 100% waterproof polyester used in the construction of the speedo unisex team swim parka results in a high-quality product. Even if you wear them right after leaving the water, they are fleece-lined on the inside to keep you warm and cozy.
It includes a hood with an adjustable drawstring to ensure a snug fit and keep your head warm. The parka also features three pockets: two on the outside and one inside, where you can store your essentials. They are all closed with two-way zippers with changeable colored pulls.
Also Read: Do I Need A Nose Clip For Swimming? 11 Best Nose Clips For Swimming
---
2. alliance team youth By Tyr
Tyr is a powerful figure in the swimsuit sector. They're well-recognized for their swim bags, tech suits, and goggles. They delivered as always with their line of parkas.
The junior swim parka for the Tyr Alliance Team was designed with comfort and heat retention in mind.
It is composed of highly durable materials, including waterproof nylon on the outer and 100% polyester microfleece on the inside.
The parka is designed to keep out wind and moisture; it has a barrel lock hood bungee that keeps the cold out and front and rear venting that let you control your body temperature.
This is the best option if you are an athlete who urgently needs thermal protection.
Also Read: 11 Best Bathing Suits For Men
---
3. jacket robe By great Aussie Swim
If you want to feel cozy in a parka after swimming, especially if you have to get in your car right after, this is your best option.
The wonderful Australian jacket/robe swim parka is not your conventional parka with the usual fake or fleece lining. It features a holder for cotton towels instead.
The majority of people favor this parka since it resembles a bathrobe or towel when you're still wet. The exterior of the parka has undergone special treatment to make it waterproof and leakproof.
This is useful if you and your children wish to leave the pool without changing out of your swimsuits and head straight home.
The parka has a fitted hood, two compartments with zippers for your belongings, and a tough 2-way ykk zipper.
It is also longer than a typical parka, giving you more warmth while also ensuring that your car stays dry.
Also Read: What Is The Best Way To Prevent Fogging Up Swim Goggles? 11 Best Anti Fog Swim Goggles
---
4. water parka By surf-fur
If you're looking for a parka, you can use it for activities like boating, diving, swimming, and surfing. You'd better accept this. It's undoubtedly the most useful parka out there.
The windproof and waterproof surf-fur water parka is completely watertight. It is manufactured with two layers of fleece glued together, unlike the majority of parkas.
Typical parkas often have nylon on the exterior and fleece inside, which makes them difficult to wear, especially when wet because the layers move independently and bunch together.
As a result of moving as a single layer, this parka is simple to wear. That's a really big tip there!
As if that weren't enough, the parka wicks away and sheds the water rather than absorbing it like many others, which prevents it from becoming heavy and damp. This is what distinguishes it as one of the top swim parkas available.
Also Read: Do I Need A Swimming Cap? 11 Best Swim Caps For Swimmers To Stay Hydrodynamic And Stylish
---
5. unisex-adult Parka Jacket By speedo
This parka should be your go-to choice if you love fashion in your swimwear. This is because it is available in 6 color-block variations and 7 various sizes. From all of the available options, you can obtain your desired outcome.
The 100% polyester fleece interior and waterproof polyester outside of the Speedo color block swim parka are both created in the United States.
As a result, you can wear it to any water-related activities without any concerns. It is warm enough to wear even in winter thanks to the fleece, and it dries quickly.
It has 3 pockets, 2 of which have 2-way zippers on the outside and 1 on the inside. Anytime you desire, you can zip from either the inside or the outside.
To keep your hands warm when you pocket, every pocket has a fleece lining. Your necessities can be carefully kept in the interior zip compartment.
Also Read: What Are Pool Noodles? 11 Best Pool Noodles For Swimming
---
6. faux fur lining by adoretex
Although adoretex is not a well-known brand in the swimming sector, their swim parkas are exceptional. Their swim parkas are quite cozy and provide the basic comfort that any swimmer would want.
For team events or contests, the swim parka with adoretex faux fur interior is the one you should choose.
Why is that, then? Well, it comes in a variety of sizes for kids and adults, and it also has a sew-in tag that you can personalize with your name and phone number or a team name.
The parka is available in 5 colors and is constructed of nylon on the exterior and faux fur inside. The nylon outer shell makes it waterproof while the faux fur inner provides superb thermal insulation, making it the perfect choice for any sport or weather.
Also Read: 11 Best Towels For Swimmers
---
7. unisex pk005 By adoretex
This is the best option if you want to quickly warm up after swimming, diving, surfing, or taking a bath on a tight budget. With almost infinite color and size options, it is the height of versatility.
The interior of the parka is lined with fleece and is made entirely of water-resistant oxford nylon. Due to its leak-proof design, you may go home without worrying about having wet car seats and in your swimwear.
The parka may be worn in any weather because of the fleece lining. It keeps out the cold wind in the winter and the outside heat in the summer.
The fleece will make you feel toasty warm, and since it dries rapidly, it is appropriate for any water-based activities.
Also Read: Should We Use A Waterproof Case On Your Smartphone? 11 Best Waterproof Phone Cases For Swimming
---
8. unisex black lining by adoretex
This point is already settled: adoretex is renowned for its premium swimwear. Their warm unisex coats for adults and children are not an exception.
With only a few minor design changes, this adoretex unisex swim parka is not significantly different from the one I reviewed above.
The unisex parka offers you superior comfort and warmth because, unlike its predecessor, the interior is made with incredibly soft arctic fleece.
Additionally, it dries quickly, allowing you to wear it with ease to any events or activities that involve water. Because the outer shell is made entirely of oxford nylon, it is completely waterproof.
By unzipping the parka using the ykk two-way zipper from either the top or the bottom, you can adjust for legroom and freedom of movement.
Also Read: Can You Swim With A Smartwatch? 11 Best Smartwatches For Swimming That Will Help You While Swimming
---
9. advance short sleeve by dryrobe
Look no further if you want something you can effortlessly change into at the beach or pool without going to the restroom.
This changing robe is a fantastic option designed specifically for quick changing of clothing or wetsuits inside.
This swim parka can keep you warm and dry after your swim or when you take an offshore boat ride in addition to allowing you to change. For increased warmth and comfort, the interior is crafted of soft fleece.
The changing robe also has 3 pockets: an a4-sized interior pocket for storing your clothes, a zippered cell phone pocket with a headphone slot, and an exterior fleece-lined pocket.
It is simple to open and close the external pocket thanks to its elastic zip pulls.
---
10. team jacket by tri-mountain
This is it if you like cheap thrills. It is the least expensive swim parka on this list, costing roughly half or a fourth as much as the majority of swim parkas I have reviewed.
Yes, you can afford it and keep some of your money, but it does not operate on the cheap; its features are on par with those of a typical swim parka.
To keep you warm, dry, and comfortable, the tri-mountain team jacket swim parka is lined with polyester anti-pilling microfleece. Since the outer shell is entirely made of nylon, it is waterproof.
To expand the interior of the jacket, it also has a 2-way zipper on the front that can be opened from either the bottom or top.
You unzip from the bottom if you need more room for your legs. Either way will be effective. Additionally, it has a back vent for easier movement.
---
11. Swim Parka Adult by Nike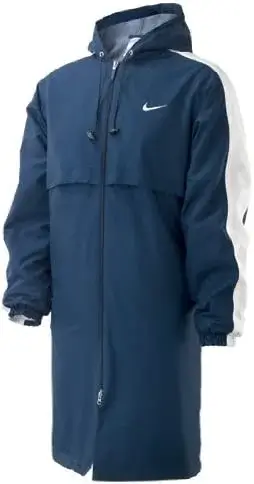 Everyone is familiar with Nike and is aware of their uncompromising standards for design and athletic apparel quality.
Their swim parka does not stand out. This ought to be your top option if you care about style. It is worry-free to wear it anyplace.
Both the inside and the outside of the parka are constructed entirely of polyester. The polyester fleece lining on the inside is soft, and comfortable, and keeps you warm and dry in any weather. The polyester outer shell is completely waterproof.
It includes a hood to shield your head from the wind. To ensure a secure and comfortable fit, the hood incorporates elastic.
However, the majority of ladies say that if they wear a high ponytail or bun, the hood does not fit their head well.
---
FAQs For Swim Parkas for Swimmers
There are a lot of questions that come to mind before buying swim parkas some of the commonly asked questions are answered below.
Q.1 Do swim parkas work?
One of a swimmer's most practical items of equipment is a parka. They are capable of serving as a blanket, uniform, jacket, and storage for equipment. They may quickly transition from coat to blanket to tent thanks to their design and endurance.
Q.2 What is the purpose of a swimming parka in swimming?
Swim parkas are unisex outerwear items created to keep swimmers warm before and during training as well as in between events at swim competitions. A parka's basic features include a waterproof shell, a sizable hood, a fleece interior, pockets, and a front zipper.
Q.3 What is a swim jacket?
Swim jackets resemble a waistcoat when worn over swimming trunks or shorts. These practical jackets are composed of UPF-treated neoprene for sun protection. Several detachable flotation devices have been included in the lining so they may be taken out as your youngster gains more comfort in the water.
Q.4 How often do you wash a swim parka?
8-10 times
You may wait to wash your swim parka till after 8–10 times of use if they are well ventilated.
---
Tell Us In The Comment As per your Experience what are the Best Swim Parkas for Swimmers?
Also, don't forget to check other articles on World Sports Gear. Enhance your knowledge about swimming and other related sports.